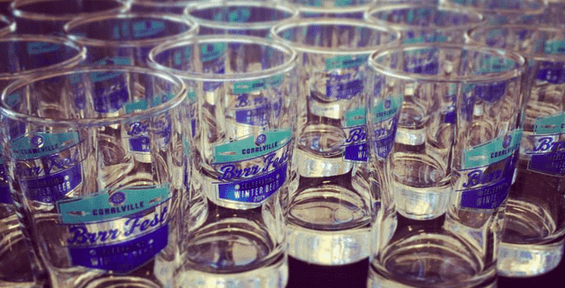 Join us in the Iowa River Landing for Coralville BrrFest! BrrrFest will be held in the Marriott exhibit hall on Saturday, January 30th from 1-4 PM. (Brewmaster events begin at noon.) BrrrFest is a celebration that showcases beers of winter, specializing in brews from Iowa and around the Midwest. Beer enthusiasts will have the opportunity to sample and purchase new beers including limited release brews that aren't widely available. Proceeds from BrrrFest go toward Coralville's 4thFest celebration in addition to the Iowa Brewer's Guild.
(UPDATE: Tickets have SOLD OUT at all levels.)
The following brewers will be featured this year at BrrFest: (Brewers marked with an asterisk (*) are new for 2016)
515
Albia Brewing*
Alluvial Brewing Co.*
Another Road Brewing
Backpocket
Backpocket Pilot Pub
Baraboo
Bent River
Big Grove
Boone Valley Brewing
Broad Street
Buck Creek Brewing
Cedar Ridge Winery/Distillery
Chefs In Black
Confluence
Contrary Brewing*
Court Ave.
Exile
Firetrucker
Fox Brewing*
Franklin Street*
Front Street Brewery*
Granite City
Great River
Green Tree Brewery*
Iowa Brewing Co.*
Iowa City Brewlab*
Jackson Street Brewing*
Kalona Brewing
Keg Creek
Lake Time*
Lion Bridge
Lost Duck
Madhouse
Mason City Brewery
Middle River Brewing*
Millstream
Mississippi River Distilling Co.
New American
Peace Tree
Pulpit Rock*
Reclaimed Rails Brewing*
Reunion Brewing*
Singlespeed
Surly
Third Base
Toppling Goliath
Turner Alley*
Twisted Vine
Van Houzen
West O
Worth
The fun will continue in the Iowa River Landing after the BrrFest festivities come to a close. Carriage rides will be offered through the Iowa River Landing, and businesses will offer featured items for post-BrrrFest patrons. These items include:
 

Massage Heights: BrrrFest attendees who visit Massage Heights and show their ticket stub can book an appointment for a $39.99 60 minute massage or a $49.99 60 minute facial. In addition, guests will receive a free elevation with the purchase of a membership.
Coralville Marriott: BrrrFest Package, includes breakfast for 2 guests and 2 general admission tickets to BrrrFest
30 Hop: Receive a free pint with your purchase of a 30hop T-Shirt ($15). Supplies limited.
Backpocket Brewing: pulled pork sandwiches and all beef hotdogs; free brewery tours.
Waterstreet: Coffee Specials
WineStyles: 10% all Beer Sales (15% off for Beer Club members) and $2 off all Beer Draws
Scratch Cupcakery: $22/dozen deal (buy 11 cupcakes, get the 12th free) 
TrueStyle: Store-wide discount will be whatever the predicted high temperature is for that day according to www.kcci.com. 
Brides by Jessa: 25% off store wide
Luxe Interiors: storewide floor sample sale
Edgewater Grille:  $10 GyroBrrrGer served with bottomless fries, $5 draft beer bar special
Be sure to share your #AfterBrrrFest photos from around Iowa River Landing on Facebook, Twitter, or Instagram using our hashtag. The person with the most creative photo will win a prize pack containing items from Iowa River Landing businesses!
Newsletter Sign Up
Follow Us