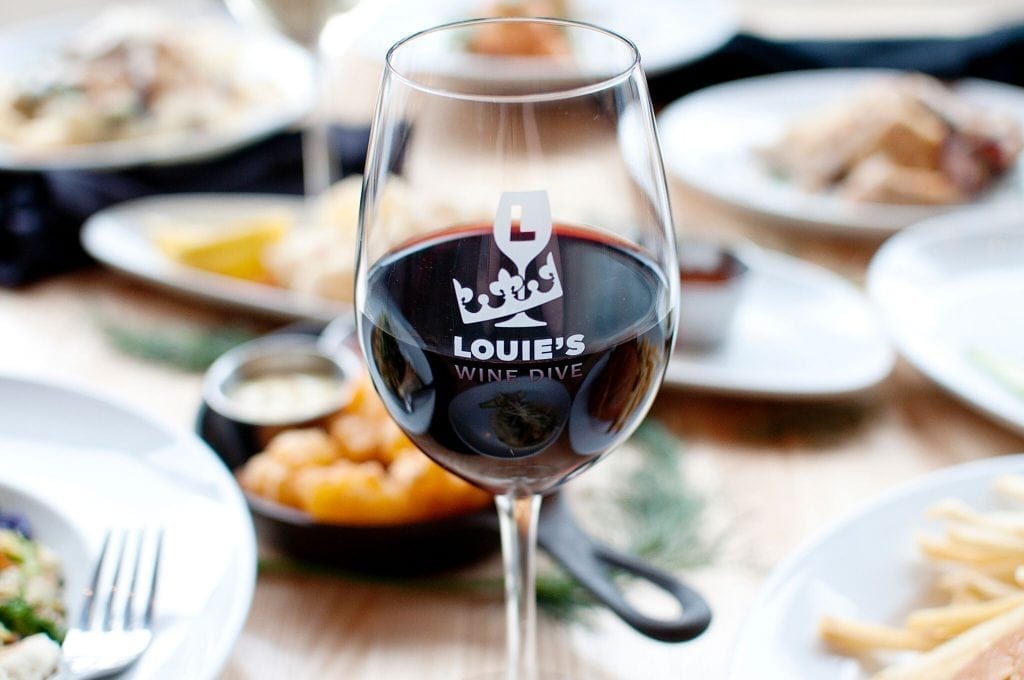 The Iowa River Landing is pleased to announce the latest addition to this exciting retail, dining, and entertainment district. Louie's Wine Dive, a restaurant and wine bar with eight current locations throughout the Midwest, is opening a new site in Coralville's Iowa River Landing, set to open in the fall of 2017. It will be located at the northeast corner of East 9th Street and East 2nd Avenue across from 30hop.
Louie's Wine Dive offers a full food menu and an impressive wine program, earning positive mentions in USA Today, Wine Tourist Magazine, dsm Magazine, and Iowa Foodie. Co-owners and childhood friends Whitney VinZant and Corey Gonzalez set out to create "a Brooklyn-style, neighborhood restaurant with outstanding scratch food and a major focus on wine." The restaurant carries 100+ wines with 50–60 offered by the glass — many new to the Iowa market. Louie's Wine Dive features its trademark Wineboard, wherein our Beverage Director can make up-to-the minute decisions on purchasing unique and often rare wine. The Wineboard changes daily and also offers tremendous value opportunities.
The first Louie's opened was in Urbandale, Iowa, followed by the Brookside neighborhood in the Kansas City area. Today there are also locations in Indiana, Kansas, Kentucky, Missouri, and Nebraska. Just last week, VinZant announced another new location set for Nashville, Tennessee, making 10 locations total.
The word 'dive' refers to the restaurants innovative wine program. "Our objective is — one, to make wine fun. And two, to make unique wine accessible," said co-owner Whitney VinZant. Louie's Wine Dive makes it easy for patrons to sample new wines with its policy of offering to open any bottle on the menu if diners agree to purchase two glasses. The bottle is then listed on Louie's Wine Board, wherein a dutch-auction ensues throughout the shift opening up the possibility of trying a glass at a tremendous value.
"We are truly a 'scratch kitchen,'" adds VinZant. Each location also features a formally trained executive chef and sous-chef. The menu is derived from Western European cooking methods to create unique creations best described as American non-traditional such as their Four-Pork Gnocchi.
Regular events are an important aspect of the Louie's Wine Dive experience. Typically, the restaurant hosts four events annually. Each features a customized menu of four to seven courses, with all food prepared by the executive chef. The theme is then paired with wines by the sommelier. The cost for the dinners ranges from $45 to $100 per person.
Louie's Wine Dive in the Iowa River Landing will include an island bar with an open kitchen, space for private dining, and a patio with outdoor seating where patrons can enjoy wine.
"Coralville/Iowa City is a really progressive community. We're really excited to offer a fun and non-pretentious perspective on wine and how it's consumed paired with our creative food," said VinZant. "When it really gets fun is when we develop relationships with our guests. We look forward to building a unique and enduring restaurant in this marque location in the Iowa River Landing."
With the previous announcement of Trader Joe's, also opening in the second half of 2017, significant growth is on the horizon for Coralville's Iowa River Landing district.
To learn more about Louie's Wine Dive, visit their website. 
Newsletter Sign Up
Follow Us