The Coralville Marriott and Conference Center is pleased to announce that Bryan Stolz has accepted the position of General Manager.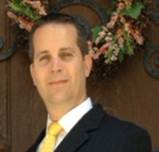 Bryan started his career in 1994, after graduating from the University of Florida, as a restaurant shift leader at the Marco Island Marriott Resort & Golf Club. After several moves into restaurant management, he transitioned to room operations and then made a move to the DC Area. Bryan worked at the Greenbelt Marriott, Fairview Park Marriott, Washington Marriott at Metro Center and most recently as the Director of Hotel Operations at the Westfields Marriott Hotel & Conference Center in Chantilly, Virginia.
In Bryan's last three executive positions, he has been able to lead his teams to driving guest satisfaction, improved profitability and associate satisfaction.
"I am excited to be back in the Midwest and to be part of a growing community that has been very welcoming," said Stolz. "I look forward to bringing more business into Iowa River Landing and being a partner to local businesses."
The Marriott is opening their doors to all in the community to join in welcoming Bryan to the area on Wednesday, November 20th from 5:00 PM to 7:00 PM. The reception is open to the public.
Learn more and RSVP here: http://www.marriottessentials.com/ecard/preview/card/105473/
Newsletter Sign Up
Follow Us