Looking for some family-friendly ways to spend your weekend? Check out these fun attractions for all ages in the Iowa River Landing!
Johnson County Historical Society and Antique Car Museum of Iowa
Travel back in time with stop at the Johnson County Historical Society Museum. Visitors of all ages will love learning about the rich history of our community and county as it has evolved over the decades. The Museum is home to more than 10,000 historic artifacts that portray the diverse and vibrant heritage of the Johnson County.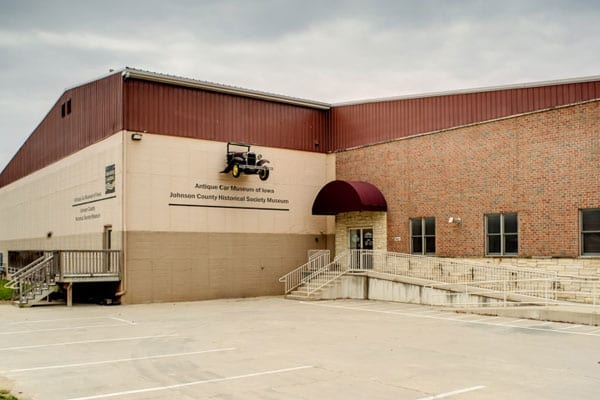 After you've browsed the Historical Society Museum, the nostalgia of the open road awaits in the Antique Car Museum of Iowa. Auto enthusiasts and history buffs will enjoy the collection of over 90 vintage automobiles, ranging from 1899-1970's.
Admission to both museums is $5, and the hours of operation are:
Tuesday – Saturday:
10 a.m. – 5 p.m
Sunday:
12 p.m. – 5 p.m
Iowa River Landing Wetland Park
The Iowa River Landing Wetland Park is the perfect spot for a leisurely stroll with your family. Located between the Marriott Hotel and Conference Center and the Iowa River, the Wetland Park consists of a two-acre pond surrounded by five acres of wetlands. A series of elevated walkways circle the pond and traverse the park, making the park an ideal location for nature walks, bird watching, and wildlife sightings.
Wetlands Park worksheets can be used in conjunction with park signage to provide visitors with a fun, educational nature experience. And if you're wondering how many questions you answered correctly, answer sheets are available at the Coralville Recreation Center upon request.
Iowa River Landing Sculpture Walk
The Iowa River Landing is home to 11 permanent sculptures that create the Iowa River Landing Sculpture Walk. Each piece was crafted by an Iowa artist and is based on a text in the Iowa Writers Library (located in the Coralville Marriott Hotel and Conference Center.) A map of the sculpture locations can be downloaded here. 
Dining, Treats and More
Taking the family on an outing can be hungry work, and luckily the Iowa River Landing is home to several great restaurants. And if you still have room for dessert, a cupcake from Scratch Cupcakery is the perfect treat!
As always, be sure to share your fun family weekend photos with us using #IowaRiverLanding. Your photo may be chosen for our next Fan Photo Friday.
Newsletter Sign Up
Follow Us