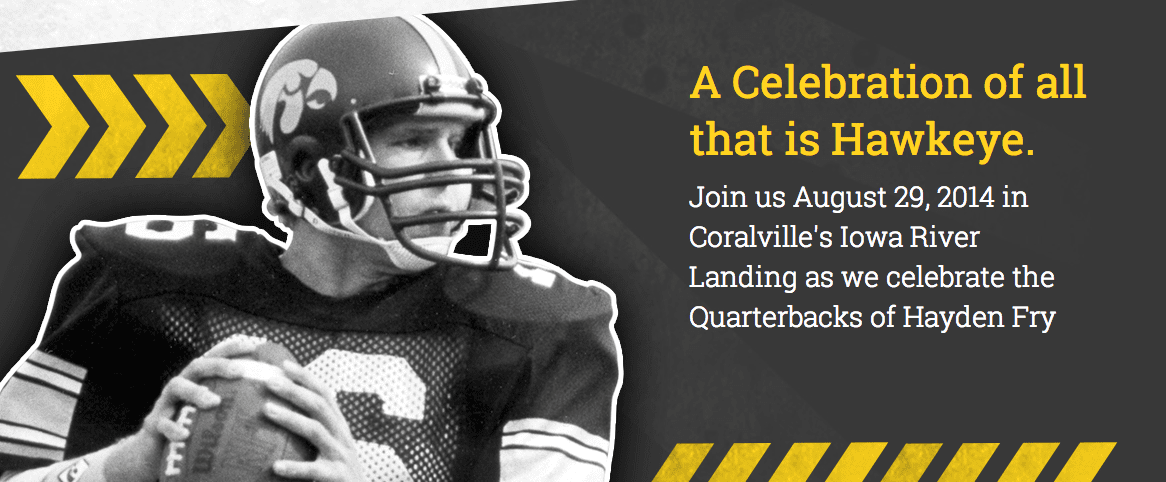 Does your heartbeat escalate every time you hear Back in Black by ACDC? Are black and gold clothing a part of your primary wardrobe? Do you simply love cheering on the Hawkeyes? If you answered 'yes' to one… or all… FRY Fest at Coralville's Iowa River Landing is a 'must experience' for you!
In the spirit of all things Hawkeye, the businesses in the Iowa River Landing are prepping for the ultimate tailgate crowd. Most establishments are offering food and beverage specials for hungry Hawkeye fans. Check out the list of specials offered on "Tailgate Row":
Scratch Cupcakes: 6 mini set cupcakes for $6, standard cupcake for $2
Vesta: brats, burgers, chips, drink: $5
Waterstreet Coffee Bar: $1 12 oz. hot or iced plain coffee
Marriott/Edgewater Grille: Hawaiian Style Slow Cooker Kalua Pork sandwich, on a Sweet Hawaiian Bread Roll topped with Asian Slaw. For $5.00
Konomi: Pulled pork, captain crunch, surf turf, $5
Backpocket Brewing: Pork roast meal deal: $11 burgers and chips, $7.40 brats and chips
WineStyles Iowa River Landing: $2 off pizzettes, cheese plates, wine by the glass, draws until 5 pm
30hop:  $1 off smalls, and various pours for $2, $3, and $4 from 3-6 all weekend long
Share what you enjoy this weekend online with #IowaRiverLanding!
Newsletter Sign Up
Follow Us