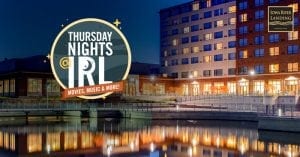 Looking for some fun ways to kick off your summer weekends? Join us Thursday nights in the Iowa River Landing for Movies, Music and More!
Movies at Backpocket Brewing
Each Thursday night Backpocket Brewing host their Movies on the Brewery. This summer's lineup is a fun mix of cult classics and family-friendly fare. In conjunction with the movie nights, Backpocket will feature 13 beers on tap and a full grill menu each week.
This year's movies include:
6/16: The Goonies
6/23: The Royal Tenenbaums
6/30: Beetlejuice
7/7: Pirates of the Caribbean
7/14: The Lego Movie
7/21: The Matrix
7/28: The Silence of the Lambs
8/4: V for Vendetta
8/11: Total Recall
8/18: Ferris Bueller's Day Off
All movies are FREE to the public and start at dusk.
Music with BF Burt
Kevin "BF" Burt will be on hand to share his signature sound with Iowa River Landing patrons beginning June 16th. He'll be playing in the Landing each Thursday night (with the exception of June 23rd) until August 18th.
Horse-Drawn Carriage Rides
Back by popular demand! Horse-drawn carriage rides will be offered in the Iowa River Landing on June 30th, July 28th and August 18th.
As always, be sure to share photos of your summer fun in the Landing using the hashtag #iowariverlanding!
Newsletter Sign Up
Follow Us