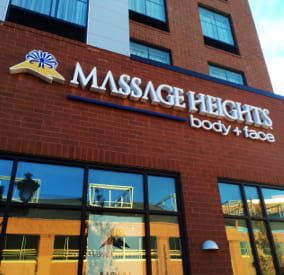 Angela Linden, former CEO for Manning Regional Healthcare Center, is celebrating the opening of her Coralville Massage Heights Retreat, which marks the 100th location for the Massage Heights brand. Massage Heights COO and co-Founder Shane Evans, who recently appeared on CBS' hit reality show series Undercover Boss, will join Angela along with members of the Iowa City Area Chamber of Commerce on Wednesday, January 8 at 4 pm for a Ribbon Cutting at the Coralville Retreat at 919 2nd Ave in Coralville.
"I'm thrilled to be a part of the Massage Heights family and to be the 100th Retreat to open," said Linden. "I'm not surprised by the success of this franchisee in reaching this milestone as their focus is on the Guest experience and being the employer of choice."
The 100th Massage Heights Retreat is located in Coralville, IA at the Iowa River Landing, a project that was recently awarded the United States Environmental Protection Agency's prestigious Phoenix Award for Region 7 for Brownfields Redevelopment. The Coralville Retreat will provide custom D facials and therapeutic massages.
After a soft opening in December, the new Coralville Retreat has added 16 new jobs to the area and is now the eighth Retreat in Iowa.
"In 2007 Massage Heights opened Fox Prairie in West Des Moines, Iowa its first location outside the state of Texas and the concept has continued to be a success," says Trisha McFadden, Regional Developer for Iowa and Nebraska. "Medical research proves that regular therapeutic massage can help fight off disease and depression, boost immunity, relieve pain, increase alertness and improve sleep quality among other benefits. Angela's experience as a healthcare professional makes her a great addition to the Massage Heights family."
Linden has an extensive background in health and wellness. After working as an ER and critical care nurse in the early stages of her career, she later served as the Director of Planning for Mercy Medical Center – Des Moines. Prior to becoming a Massage Heights franchisee, Linden was the CEO of Manning Regional Healthcare Center.
Massage Heights franchises are currently sold out in Central Iowa, but opportunities for franchises in Omaha, Lincoln and other cities in Iowa and Nebraska. For more information about franchise opportunities contact Trisha McFadden at 515-778-3862.
For more information on Massage Heights please visit www.massageheights.com and www.facebook.com/MassageHeights, and follow on Twitter @Massage_Hghts.
About Massage Heights
Founded in San Antonio, Texas, in 2004, Massage Heights is a family-owned franchise massage and skin therapy company built on a membership model. The model makes regular massage and skin therapy affordable, while still providing the level of service available at a five-star resort. The company's mission is to help people incorporate convenient, high-quality, therapeutic massages and facials into their lives so that they can live better and elevate the everyday. In an exploding industry, the company has more than 100 operating franchise locations in the United States and Canada and plans to open a total of 500 U.S. locations within the next five years. The company was featured on the CBS hit reality series "Undercover Boss" in December 2013, was ranked in Entrepreneur Magazine's Franchise 500 list for 2014, in Franchise Times' Next 300 list for 2013 and is a member of the International Franchise Association (IFA).
Newsletter Sign Up
Follow Us