30hop to Feature Area's First Rooftop Patio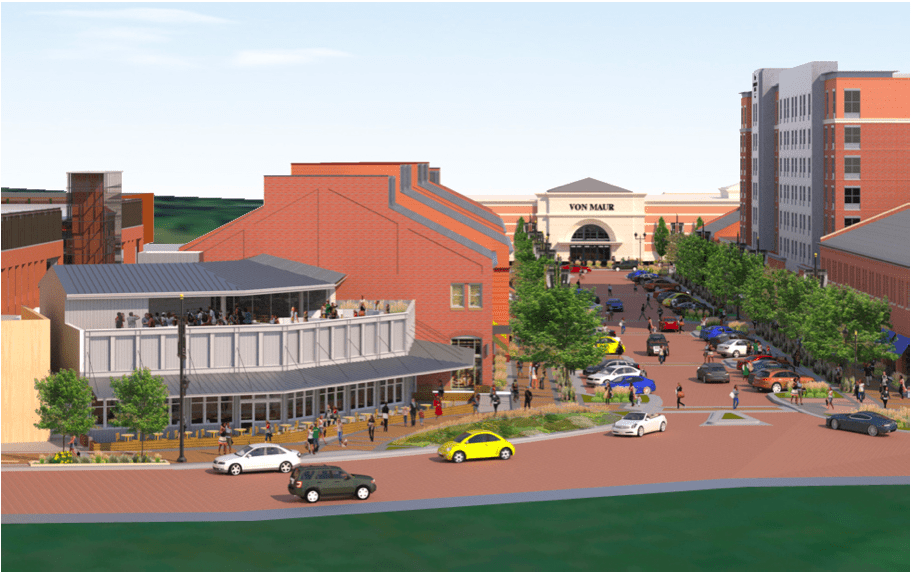 October 19, 2012, CORALVILLE, IA – 30hop will be the newest addition to Iowa River Landing, Coralville's gateway to the corridor.  The October 8, 2012 opening of the Iowa Health Care Clinic has created even more excitement and activity in the area, as well as further need for a fantastic full-service restaurant and bar.
Designed by George Pappageorge of Pappageorge Haymes in Chicago, 30hop will be a trendy yet comfortable urban-industrial dining and drinking establishment featuring the area's first rooftop patio. The contemporary menu will focus on simple, fresh, delicious offerings and will include 50 beers on tap on the main level and 30 beers on the rooftop. 30hop staff will undergo continual training and education in order to provide guests with spot-on, up-to-date service and recommendations. Through constant focus on superior service, exquisite food, and craft beers, guests will be eager to make 30hop a new hangout.
The name 30hop has origins as unique as the establishment itself. When considering iconic urban and industrial sites, the Rockefeller Center in Manhattan comes quickly to mind—a portion of this historic center of downtown Manhattan is nicknamed 30 Rock and features a 70th floor rooftop observatory that has unparalleled views of New York City. This wonderful rooftop experience mirrors 30hop's first-in-the-area rooftop patio.
Craft beer also plays a large role in 30hop's creation and design—one of the main flavoring ingredients in beer is a flower cluster called hops.  In both name and ambiance, 30hop fuses the popular nickname of the Manhattan area, 30 Rock, with the essential craft beer ingredient, hops.
30hop's menu, updated seasonally, will begin with an assortment of mouthwatering gourmet burgers and French fries, the cornerstones of any successful menu. The remaining eclectic offerings will include delectable, uncomplicated pasta, steak, seafood, sandwich and salad dishes featuring local ingredients.
With 50 beers on tap in the main dining area, 30 of our favorites featured on the rooftop, and various beers incorporated into our specialized menu, craft beer will have a starring role.  Our knowledgeable staff will guide customers to new and exciting beer-drinking experiences.
30hop's contemporary steel building will have a footprint of 6,500 square feet.  Guests will enter through a large revolving door to find themselves in a fun and sophisticated environment wrapped in windows, providing a full view of the scenic area as they enjoy the extensive central bar or the main level outdoor patio.  On the rooftop, guests will relax in a large bar area and enjoy three fire features and seating for over 130.
30hop will feature technology new to the local restaurant scene, most notably, handheld ordering units that will provide fast and accurate service. Guests will view current draft lists on LCD screens throughout the establishment to ensure up-to-date craft beer information. The modern kitchen will feature an LCD screen ordering system that will eliminate all guesswork regarding service operations, allowing 30hop to deliver consistent, hot and, above all, fantastic food.
Construction is projected to start in early November 2012, with a projected opening date of the summer of 2013. Koester Construction is the project's general contractor and will help work with 30hop partners to ensure a quality and timely project.
30hop's partners include Erik Shewmaker, Matthew Swift, Brian Flynn, and Dan Blum.
• Erik Shewmaker has been the owner/operator of BlackStone restaurant and bar since its opening five years ago.  BlackStone has received many honors and has been voted the area's best restaurant, bar, family restaurant, and American food establishment. Shewmaker oversees a staff of 64 and continues to grow sales each year.
• Matthew Swift has been working in restaurants his entire life. Currently, he is the owner/operator of Red's Alehouse in North Liberty. Red's is another one of the area's most popular restaurants, and was a trailblazer for introducing craft beer to the area. Before Red's opened, Swift operated BlackStone with Mr. Shewmaker, was the owner/operator of the Sycamore Pizza Ranch, and was the general manager of Sluggers.
• Brian Flynn has ownership in a number of ventures, including four local restaurants and bars- BlackStone, Joe's Place, Donnelly's, and Vesta. His establishments are always popular and have become essential to Iowa City and Coralville's cultures.
• Dan Blum has many years of restaurant management experience and grew up with a father in food service management. His first restaurant job was at the age of 15 at Valentino's Restaurant in Ames Iowa.  Dan worked as a manager of BlackStone and helped grow the restaurant from 5,000 to 8,000 sq. feet, worked to develop and implement training/hiring strategies, lead a front of house of over 40 employees, helped maintain financials, developed operational strategies, and lead many other initiatives.
30hop management anticipates hiring a staff of 60-70 employees. A professional kitchen staff will account for approximately 30 positions, with the remaining positions being servers, bartenders, hosts, and food runners.  Skilled kitchen staff and anybody in search of further information can contact management at management@30hop.com.
Newsletter Sign Up
Follow Us