This piece originally appeared in the Winter 2011-2012 issue of The Coralville Connection by the city staff.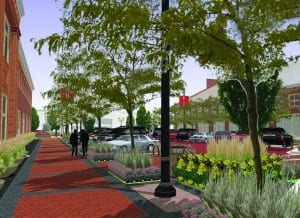 The late September announcement that Von Maur will anchor Coralville's Iowa River Landing (IRL) follows years of planning for the transformation of this former industrial park. Recent project announcements in this highly visible area bordered by the Iowa River, Interstate 80, and First Avenue – including Von Maur's 80,000 square-foot department store, a hotel, brewery, and the University of Iowa Health Care's Iowa River Landing facility – will bring a positive change to the landscape on the east edge of Coralville.
Planting Seeds of Change
Seeds of change for this area were planted in the mid-1980s when the Community Planning and Vision committee considered the impression Coralville made upon drivers viewing this blighted area along Interstate 80, and they began to look at ways the community could be differentiated from others along this major roadway. At that time, the Industrial Park offered a view of unplanned development, perceived environmental contamination, a truck stop, million-gallon petroleum tank, and the exteriors of an adult dance and entertainment establishment, auto body repair shop, salvage yard, adult bookstore, and waste hauling business.
See a special photo gallery of the area 'Before the Landing' >
By 1988, the City Council had identified the Industrial Park as a priority for economic redevelopment, envisioning a new gateway to the community, a hotel and conference center to meet the needs of the University and area businesses, and a riverfront recreation and entertainment district. This vision embraced the highest and best use for the property along the Iowa River and high-traffic-volume Interstate.
The challenge for private reinvestment in this brownfield area was perceived and actual environmental contamination caused by the existing and previous land uses, as well as the multitude of parcels and land owners—over 110 parcels and 74 owners – which made private redevelopment difficult at best.
Addressing Environmental Challenges
With the assistance of the Environmental Protection Agency, Underground Storage Tank Insurance Fund, United States Army Corps of Engineers, The University of Iowa, Iowa Department of Transportation, Federal Emergency Management Agency, and Iowa Economic Development Authority (formerly Iowa Department of Economic Development), the City has completed over 100 Phase 1 and Phase 2 Environmental Site Assessments.
The resulting clean-up has included
Removal of 197,000 cubic yards of arsenic-impacted soils and fills
Removal of 74 cubic yards of lead-contaminated soils
Treatment of 103,000 gallons of petroleum-impacted groundwater
The transition from Industrial Park to Iowa River Landing has included recycling and reuse of former buildings, including
Twenty five thousand tons of concrete and asphalt that have been salvaged, crushed or ground, and recycled for use as sub-base on trails, new streets, and sidewalks in Coralville
Four buildings that were disassembled, relocated to other sites, and reassembled as complete buildings
Removal and reuse of lighting and HVAC from buildings prior to demolition
Eco-friendly elements in the Iowa River Landing will include
LED street lighting (uses up to 60% less energy than current lighting)
Electric car charging stations (located at the west parking ramp currently under construction)
Stormwater planters and permeable pavers (diverts storm runoff into filtration systems)
Coralville's leadership in brownfield redevelopment has received national and regional recognition for solving critical environmental challenges and transforming blighted and contaminated areas into productive new uses.
Revitalizing the Former Industrial Park
The first phase of construction in the Iowa River Landing included the 286-room Marriott Hotel and Conference Center, north parking ramp and south lot (completed in 2006), River Bend mixed use facility, Antique Car Museum of Iowa, and the Johnson County Historical Society, which opened shortly thereafter.
Recent work in the Iowa River Landing has also included infrastructure improvements and wetlands park improvements. The park improvements include a trail, comfort station, and elevated walkways that ring the pond and traverse the wetlands on the east side of the Marriott Hotel and Conference center. A limestone outcropping with cascading waterfall feature at the north end of the pond is also a part of the project.
Construction continues throughout the next year, with the following new openings in 2012:
The University of Iowa Health Care – Iowa River Landing 150,000 square-foot medical clinic and accompanying parking facility is expected to open in the fall of 2012. This facility will house general internal medicine and general pediatrics, including specialty services, cardiology, gastroenterology, women's health, women's wellness (psychiatry), surgery, diabetes center, and cardiac rehabilitation. Other services will include radiology such as general x-ray, mammography, ultrasound, bone density testing, laboratory testing, CT scans, and MRI. More on UIHC at the Landing >
A 95-room Homewood Suites by Hilton will also open in the fall of 2012. This will be an all-suite property with each room featuring a full kitchen, living room, and bedroom. More on Homewood Suites >
Backpocket Brewing will open a 25,000 barrel-per-year capacity production brewery in summer 2012. The 15,000 square foot Coralville facility will be an expansion of current brewing operations at Old Man River Restaurant & Brewery in McGregor, Iowa. The brewery will also feature a large tap room and beer garden for the public. More on Backpocket Brewing >
The Von Maur store is expected to open in 2013. More on Von Maur >
Newsletter Sign Up
Follow Us