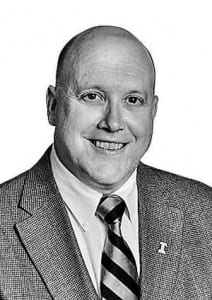 It's easy to forget what the Iowa River Landing looked like before we called it the Iowa River Landing. In fact, there are probably many who — due to the transient nature of our community — weren't here before the Marriott and thus don't remember the vast 180 acres of industrial wasteland and blight that used to welcome travelers to our community as they exited Interstate 80.
For years, the redevelopment of this area has been a paramount concern of many generations on the Coralville City Council and other community stakeholders. Indeed, this area's undeveloped land and accessibility to Interstate 80 holds great potential for all of us in the southern corridor.
After decades of careful planning, this vision is on its way to becoming a reality through the Iowa River Landing redevelopment project. Since first clearing the area, we've seen the Coralville Marriott Hotel and Conference Center as well as the River Bend development draw a new kind of excitement to our community. These businesses also have blazed the trail for new and exciting projects that have already broken ground, such as the University of Iowa Health Care Medical Office Building, Backpocket Brewing and Homewood Suites. Two weeks ago, we were able to announce Von Maur as the anchor of the IRL's retail main street.
This is an exciting time for Coralville and our community as a whole. In addition to cleaning up an eyesore, the Iowa River Landing redevelopment will also create new jobs, attract new visitors from outside our region, increase our tax base, enhance sustainability efforts through the wetlands park and improve our quality of life.
Some have asked why our community itself needs to fund this redevelopment?
With business growth curbed by one of the more challenging economies in recent history, communities across the country have stepped up with incentives to attract the retailers and businesses needed. When it comes to redevelopment, given the many obstacles, oftentimes the municipality is the only one who can connect all of the dots. We've observed this in redevelopments nationwide and close to home such as downtown Des Moines.
Some have questioned incenting businesses to locate at the IRL. The fact is, this practice, too, has become commonplace nationwide in cities from Washington, D.C., to Omaha and Kansas City. In a challenged economy and a competitive business environment, cities are getting smart and realizing that they need to put resources behind projects to attract the retailers, grocery stores, shopping centers and other businesses needed to fully realize the area's vision.
In fact, without seizing opportunities like this, our community at large runs the risk of losing retailers like Von Maur altogether. Jim Von Maur himself has noted that they'd considered other locations in the area but ultimately chose the IRL because they liked the site's proximity to the interstate and the diverse, multi-use development.
"What we are really excited about is the opportunity to serve a wider regional customer base," Von Maur said recently. "With I-80 right next to us, we are really going to be able to serve customers from a wide range and from very far out. It's going to be a real landmark for the community."
At the end of the day, projects like the Iowa River Landing are an investment. An investment in our community. In recent years, we've seen the return on these investments help us grow our tax base, which in turn helps us improve our quality of life with new projects like the Coralville Center for the Performing Arts, the expansion of our public library and the development of our trail systems.
Which brings me to my final point. This is our community. Both Coralville and Iowa City. Our vibrant community is a symbiotic one where city boundaries do not impede citizens from enjoying the many festivals and other attractions that both cities have to offer. As we improve and redevelop areas in both Iowa City and Coralville, it makes our collective community even stronger.
Newsletter Sign Up
Follow Us